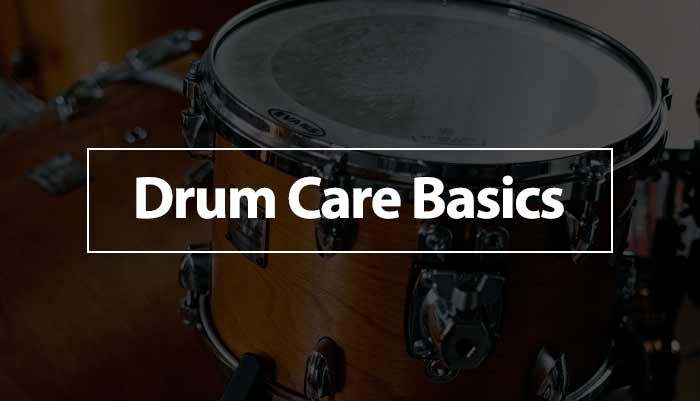 Your drum set will last longer and sound better for years to come if you get into the habit of maintaining your drum set on a continual basis. here are some tips to follow:
1. Cover Your Drums
They come in many finishes such as a wood drum wrap, lacquers, stains, and many other styles but you can still keep them looking sharp by dusting them and covering them when they are not in use. If you are playing in let's say in a nightclub that serves food. The grease from the food will create a film on your drums. Keep them covered by simply draping a light bedsheet or even a light painters drop cloth will serve the purpose. You can even throw a blanket over the drum set to keep it covered.
2. Wipe Them Down
It's smart to wipe your drums down with a cloth and glass cleaner but there comes a time when you will want to thoroughly clean your drum set. This would mean taking the lugs off the drums and taking them apart. Unscrewing the cymbals will be part of the extensive cleaning job as well. Take the drums apart and thoroughly clean every part of them with Pledge or a drum cleaner such as Drum Shell 65 or Drum Detailer. You will want to clean the shells thoroughly which means setting the lugs and rims apart. Clean the lugs and the rims as well. A good thorough cleaning will benefit the drum set greatly and you will get many more years of pleasure from your drum set.
3. Keep Your Drum Set Clean
Whether you are cleaning a lacquer, plastic or natural wood drum finish take care to wipe these finishes down gently but frequently. Using a non-abrasive cleaner to clean these surfaces with will keep them from getting scratched or worn. You can also protect your drums with a Rockskins drum wrap.
4. Lube Your Drums
Specifically, you want investigate the shells and look at the condition of the bearing edges and if they are in poor condition it maybe time to get a new set of drums. Or if this is not a viable option then you may be able to replace the bearing edges. If they are still in good condition then you may want to lubricate them to keep the drum head tuned and properly seated. You can either purchase Bearing Edge Conditioner from Drum Dial or use a light coat of wax to lubricate the bearing edges.
5. Shine the Chrome
This makes the chrome look nice and polished and it will extend the life of the chrome by protecting from erosion caused by wear and tear. Make sure you put the cleaning polish on the cloth before you start wiping the chrome down. Don't put the cleaning polish directly on the chrome itself because this will heighten the chance of polish being left in the nooks and crannies on the lugs and stands. Be sure to wipe out all the nooks and crannies anyway to remove excess polish. This will also help make your Rockskins wrap pop!
The drum care article has suggested some necessary maintenance tips to keep your drum set looking its best and to keep it in top condition for years to come. Make sure you check out our drum wrap ideas blog post too.