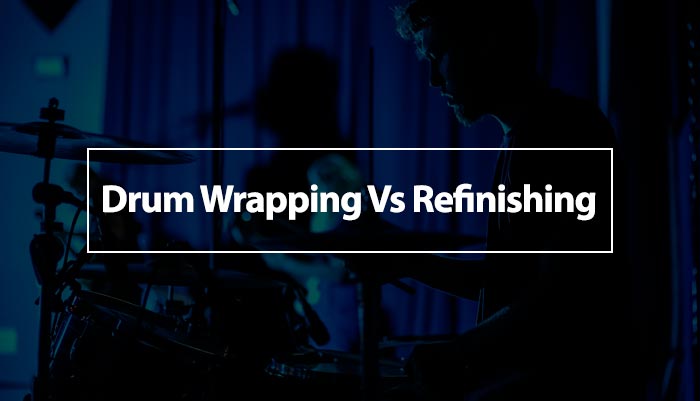 Is your drum set starting to show its age, with a few visible scratches, cracks and dents here and there? Are you looking to customize your new, or old, set of drums with some eye-catching designs? If your answer to any, or both, of these questions is to the affirmative, then you will need to choose between the two available solutions, drum wrapping and refinishing. At some point, most, if not all avid drummers have to choose between drum refinishing versus wrapping, after weighing the pros and cons of each option. If you are not sure which way to go, read on below to find out why drum wrapping is the better option.
Aesthetic Appeal
Drum wraps give you a means of enhancing the look, and even feel, of your drums. With the right drum wrap, you can easily transform the look of your drums with a variety of design patterns, graphics, colors and prints. In fact, when choosing a wrap that matches your personality, or preferred look, you can choose from a wide range of existing designs, or even create with your very own custom design. While painting does help give your drums a fresh new look, achieving the same level of customization and resulting aesthetic appeal offered by drum wraps can be quite challenging. See this post to get drum wrap ideas.
Ease Of Installation
Drum refinishing follows a different process from drum wrapping. And when it comes to giving your drum set a fresh new look in an easy and straightforward manner, nothing beats a drum wrap. While the installation of a new drum wrap is easy and simple, you need to be highly confident in your sanding and painting skills if you opt for refinishing instead. Drum refinishing also takes longer to complete, as compared to wrapping which can be completed in a short period of time!
Protection
You need to properly protect your drums if you are going to enjoy them for as long as possible; especially if you are constantly on the road, or use the set on a regular basis. Since drum wrapping involves the installation of a thin layer of plastic material around the outer surface of drums, it helps protect the shell of from regular knocks and scratches. Wrapping also shields the shell from the elements; thus, preventing any fading of the original drum and the actual wrap itself. Now, even though staining does offer some level of protection, it doesn't come close to what is achieved through wrapping. Visit our drum wrap gallery here: https://rockskins.com/collections/drum-wraps
Durability
On top of providing a higher level of protection from constant knocks and other damaging elements, drum wraps are highly durable, and less susceptible to damage; they also require less maintenance. Sadly, the same cannot be said for refinishing. As such, with a high quality drum wrap, you can spend more time playing your drums instead of always having to refinish them every now and then.
Conclusion
From the above, it is easy to see why drum wrapping is better than refinishing. At Rockskins we offer high quality drum wraps. Our unique wraps are designed to perfectly fit your drums without the need for any gluing; resulting in easy installation and removal. This, combined with our huge library of designs, makes the process of personalizing and rejuvenating the look and feel of your drums as effortless and satisfying as possible.